---
Transparent enamel against a guilloched background
The technique of applying a high number of variously-shaped undulating lines to metal was first invented in France more than 200 years ago. It's named for the master jeweler who developed the technique – Monsieur Guilloche.
In the 19th century, all of the leading jewelry firms had special lathes that would carry out the etching of silver or gold in the form of a grid of undulating lines. These lathes had a sophisticated mechanical device, and the etched lines could be changed according to the amplitude and height of the undulation. In the end, the metal was left with a beautiful combination of etched lines. As a rule, transparent enamel was applied to the metal after etching.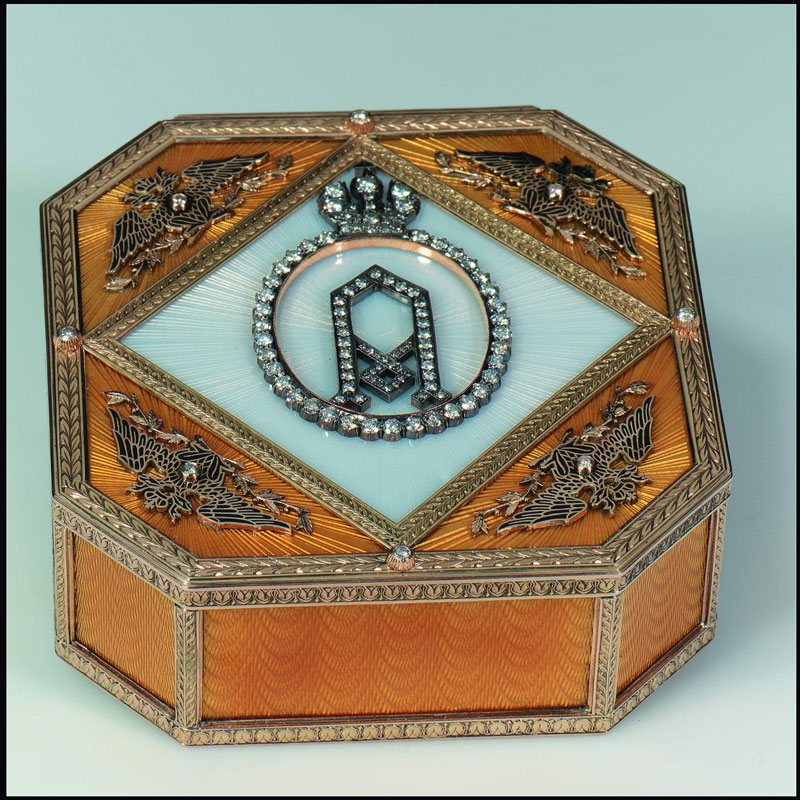 The Revolution of 1917 swept the Bolsheviks into power. Jewelry studios were closed down, and Russia's largest jewelry firm – the Carl Faberge enterprise – ceased to exist. The firm's best masters either emigrated or became the victims of political repression. The country entered a period of decline for the jewelry arts. The complex guilloche lathes suddenly became obsolete. Strange as it may seem, not a single historical example of these unique devices managed to survive.
Andrey Ananov, who learned the jewelry trade on his own, decided to revive this unique technique as well. He assembled his first guilloche device using parts from a children's turning lathe. An ingeniously-configured attachment to the lathe etched undulating lines that faded into the center of the form, secured in place by a special base plate. Later on, in perfecting his invention, Ananov managed to master the guilloching of curvy surfaces, in particular – Easter eggs.
The technique of applying transparent enamel to a guilloched surface is most commonly used in the fabrication of items used to decorate the interiors of reception rooms and offices, as well as vanities. Frames for photographs and miniatures, cigar cases, small keepsake boxes, medallions, earrings and rings, bracelets, pendants, Easter eggs, and many other jewelry pieces are decorated in this way.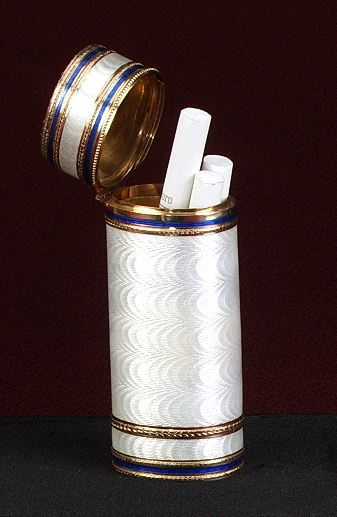 Strange as it may seem, in all his travels throughout France, Germany and other European countries, Ananov never encountered any modern guilloching lathes. He was only able to find one firm in Great Britain applying etched undulating waves – and even then it was only to flat surfaces.
Which doesn't come as a surprise. You'll never become a millionaire working with your hands, and guilloching is an intensively-manual type of work. The process is lengthy, requiring at least 10 hours to create a single Easter egg the size of an ostrich egg. In the today's jewelry business, all of the processes are geared towards deriving maximum profit. The "golden hands" of the master-jewelers have faded into history. They've been replaced by precision casting, where all you need is a master model to pour pieces by the thousands. Stamping, chemical polishing and galvanization.
The jewelry arts have given way to mass-market consumer goods. More's the pity...
Author: A.G. Ananov